Do You Know You REALLY Need To Be Doing Something To Grow Your Wealth, And Yet You Just Don't Have The Time or Opportunity To Do It All On Your Own?
You Don't Have To Play
The Property Game On Your Own...


Your Property Game Plan

is a Proven Step-By-Step Process For Growing Your Property Portfolio That Takes The Pressure Off You By Giving You Access To Experienced Investors & Experts Who Will Support You Every Step Of The Way And Help You Make Excellent Property Buying Decisions Using Very Little Of Your Own Time Or Money.

(in fact, for many people using this Game Plan, they're able to acquire property using just a $1 deposit and very little, if anything, out of their pocket in holding costs).
I used this exact system myself to create a multi-million dollar property portfolio that enabled me to retire at just 38 and enjoy life with my young family (even though I'd never really earned more than an average wage!).
And now you can learn this same step-by-step Game Plan for your own property investing success.
Why Having a Game Plan Is The Difference Between Winning It All and Losing It All
Imagine you decided to run a marathon...
You could just turn up at the start line without doing any training and chances are, you wouldn't last very long before you had to pull out with an injury or exhaustion, way before the finish line. This kind of strategy can actually do you serious long term damage and it will also likely turn you off ever running another marathon.
Or, you could put your own training program together, based on what you already know or what friends have told you might work.
And, whilst you are likely to fair a little better than the person who didn't train at all, I can almost guarantee you won't do as well as you could have if you'd been working with one of the country's most experienced and successful marathon runners helping you get prepared for the race.
A winning marathon athlete knows where the pitfalls are. He or she has likely made just about every mistake there is to make and already corrected their process based on what those mistakes have taught them.
They know when to run hard and when to keep some fuel in the tank.
They will also have the benefit of knowing what equipment, support people and resources you need to maximise your training process and get you to the finishing line in the best time possible, feeling great and injury-free.
It's just the same with property investing.
Many people get burned thinking they can just jump in and succeed in property investing without doing any research. Or perhaps they take a "hot tip" from a friend or family member that ends up costing them dearly.
The A Grade property investors, like the elite marathon athletes, know they need a Game Plan and they spend years refining those Game Plans so that they have a repeatable system for creating wealth.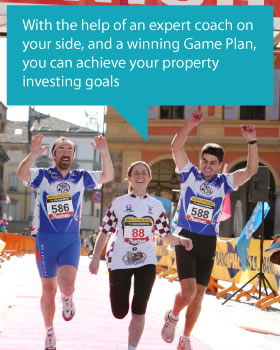 At the Your Property Game Plan events I will be sharing my personal system with you.
This is my most valuable asset.
Take away all my dozens and dozens of investment properties tomorrow and you still haven't taken away my wealth. Because, with the power of my system (my Game Plan) I know I can re-create my wealth in a short period of time.
People would normally pay thousands of dollars for this information.
Be sure to act now to claim your place at these limited-seating complimentary events today.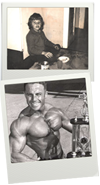 I wasn't born with a silver spoon in my mouth…
Growing up in humble surroundings in rural New South Wales, I quickly realised I was never going to be given money or inherit a fortune. If I wanted to achieve wealth, I needed to make it on my own, so when I was 18, I vowed to become a millionaire by the time I was 30.
To achieve my goal I worked with some of the best coaches and mentors in the world and began to focus on turning my passions into profits.
I love business and real estate, so by pursuing both of these I not only achieved my goal of being a millionaire by the time I was 30, I was also able to retire at 38.
Now that I am financially free, I get to choose whatever I want to do. I really love spending time with my family and we are now regular travelers, taking numerous family holidays per year.
I also get to fulfill one of my other great passions, which is to educate others how they can use the same powerful strategies for creating wealth through property that have enabled me to live the life I have always wanted.
I wasn't born with a silver spoon in my mouth. I didn't have a lot of money to get me started. I've just learned the Game Plan for creating wealth using real estate, that costs very little to get into or maintain and takes only a fraction of the time required for many other more complicated property strategies – leaving me with more time to do the things you really want in life.
And I'd really like to share my Game Plan with you, so you can enjoy the life you dream of.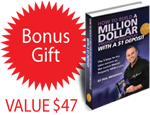 How To Build a Million Dollar Property Portfolio with a $1 Deposit
I do hope you will join me to learn how you can become a Lunch Money Property Millionaire.
And when you register, you will receive my Real Estate Success report, valued at $47.